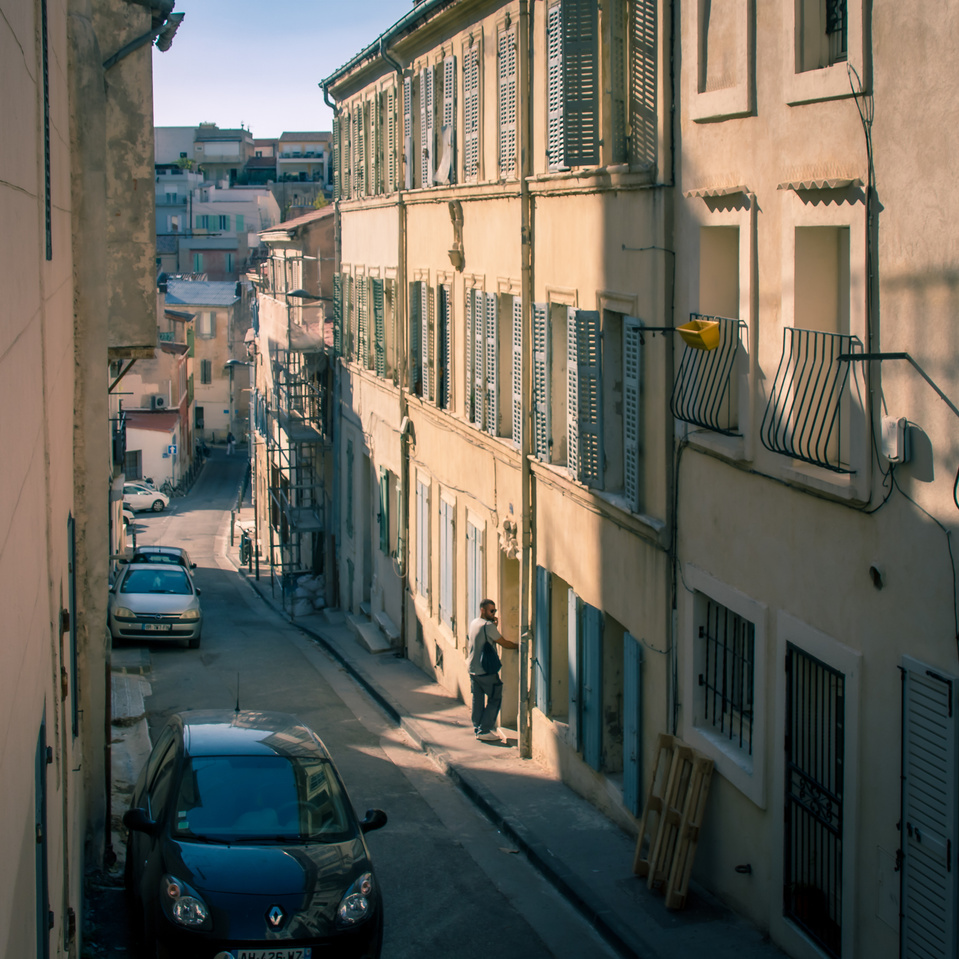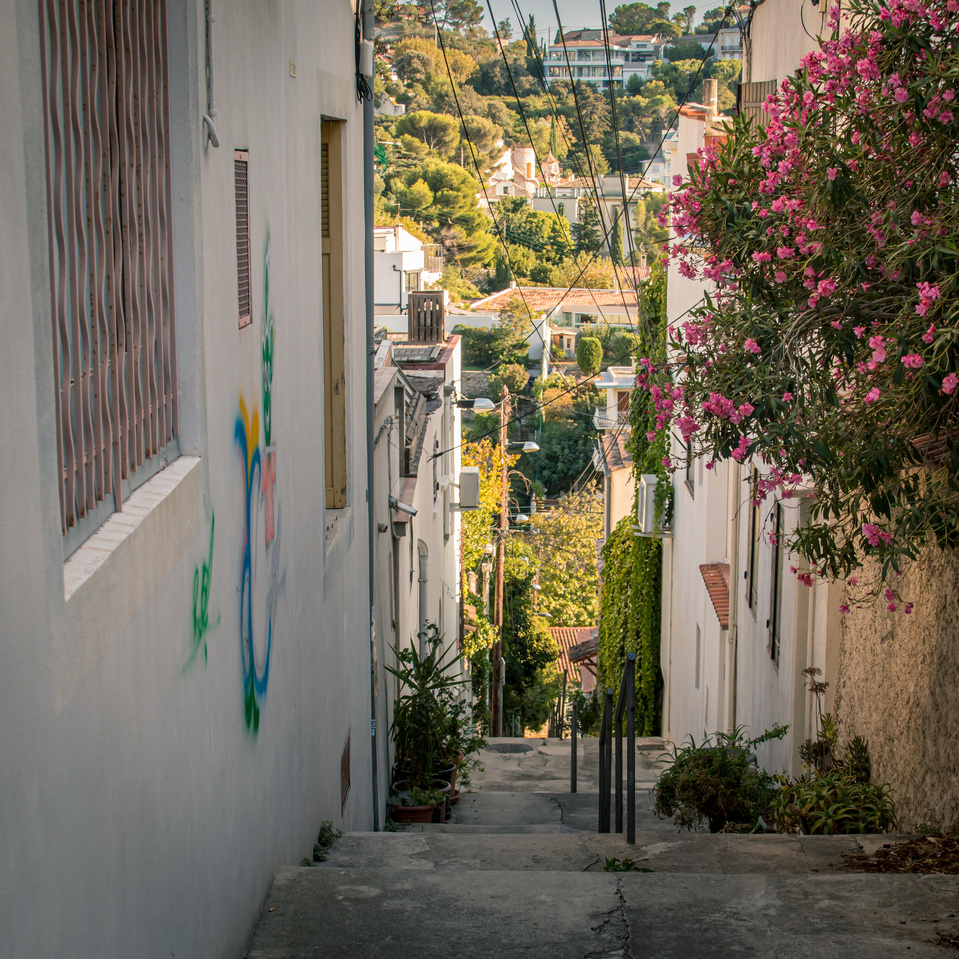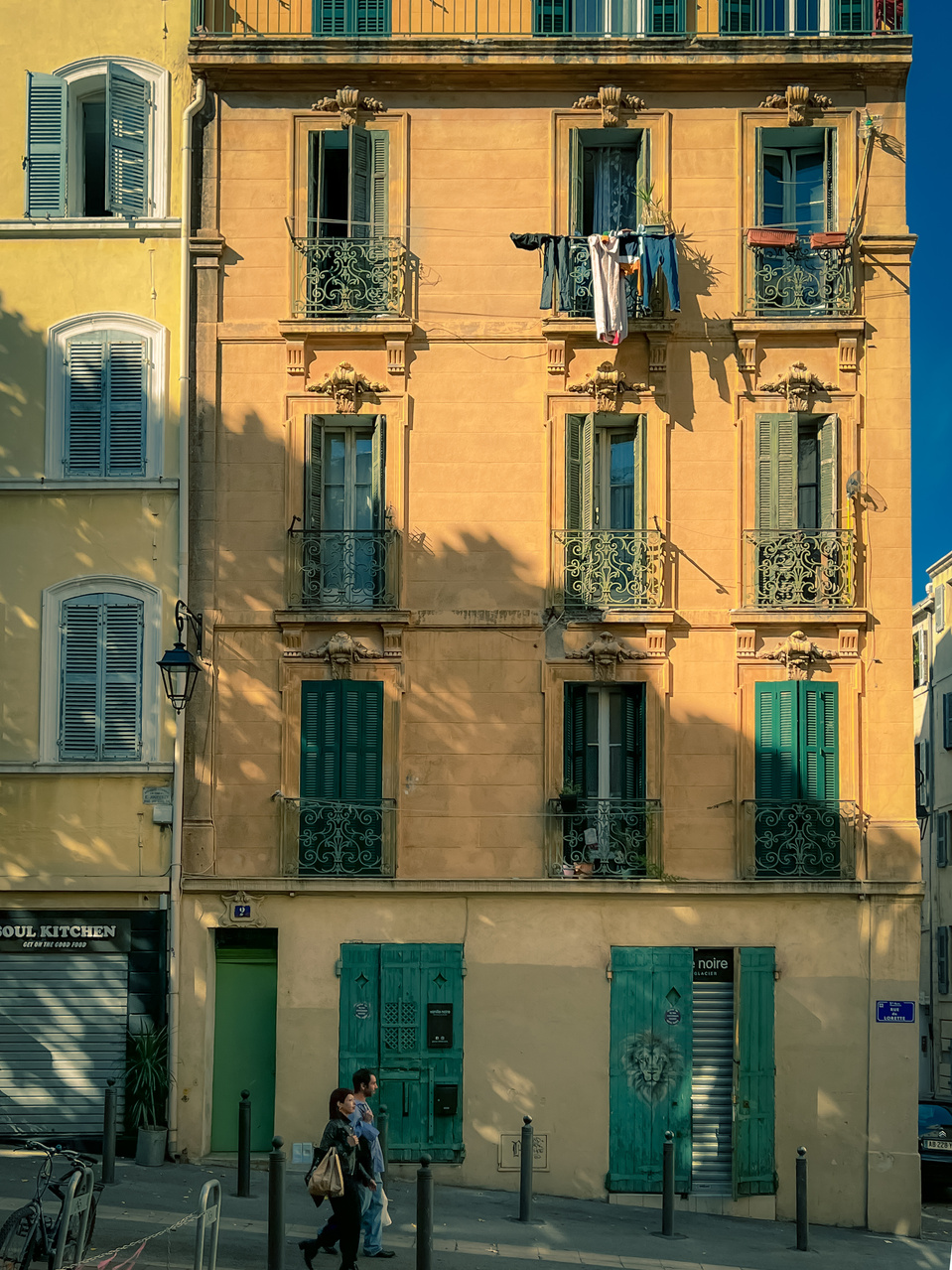 I last wrote about leaving Marseille. We now go back to the beginning.
We leave behind a Parisian-grey morning, traveling by train at 325 km/hr to emerge into the warmth and brilliant light of Marseille, her pastel skirts spread over hills in all directions. Our polite and welcoming taxi driver let us know that he hates driving to the older hilly parts of Marseille like the 7th—which is where we are headed. At the train station, we had just watched a young mother and her child in a stroller, struggling to find a cab that would take her to "le Painier", the oldest part of Marseille.
I recount this because as pedestrians, Bob and I came to love the steep, zigzaggy, routes all over the city. But honestly these streets, wide enough for maybe one vehicle, mostly carry three. One parked "à cheval" (on horseback), i.e. one set of tires on the sidewalk and the other in the street, and two going in opposite directions—sometimes with a bus. So I can understand why one wouldn't look forward to rounding switchbacks in a vehicle. But as pedestrians, one always has the option of taking the many convenient long stairways called "traverse" that connect hilltop to valley and back to hilltop, thereby avoiding all the switchbacks. The old city is smart that way, like many old cities throughout Europe.
At the top of the hill, Sophie, our gracious host, shows us in and we are thoroughly pleased with this spacious (by French standards) bright, beautiful apartment. At last, a place where we can actually unpack and settle in for a month-long stay. Our friends, Sebastien and Brice, live down the hill just off the corniche—about a 15-minute walk. In the evening we head down to inaugurate our Marseille adventure.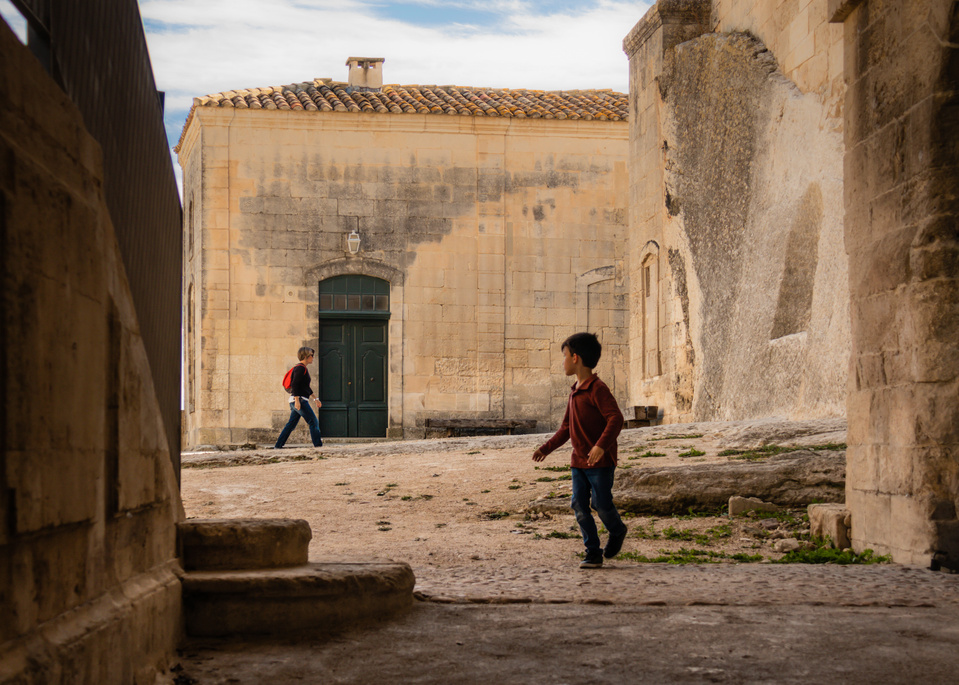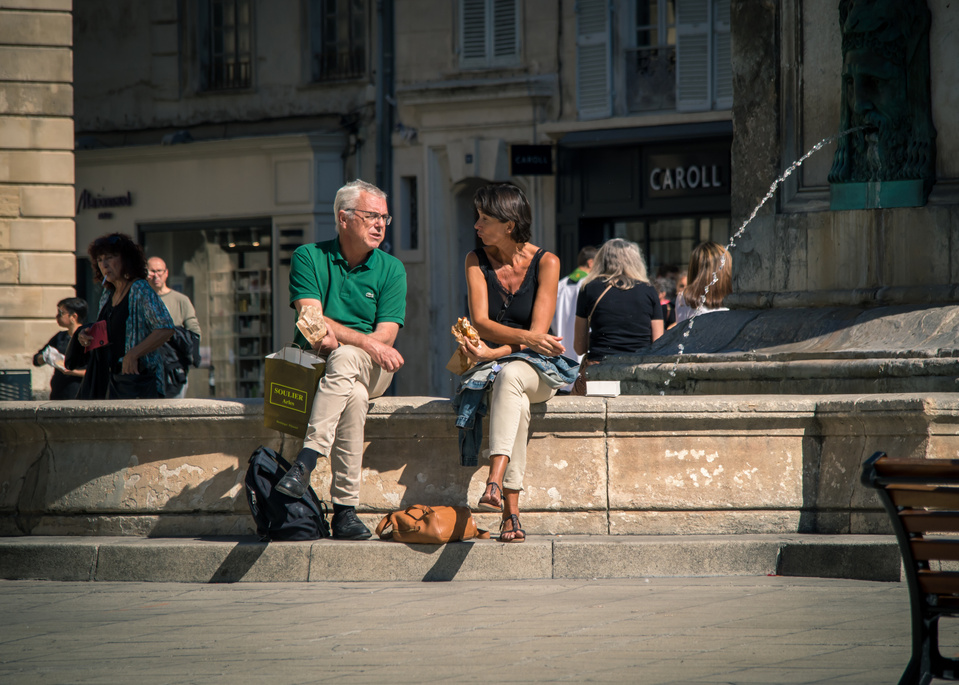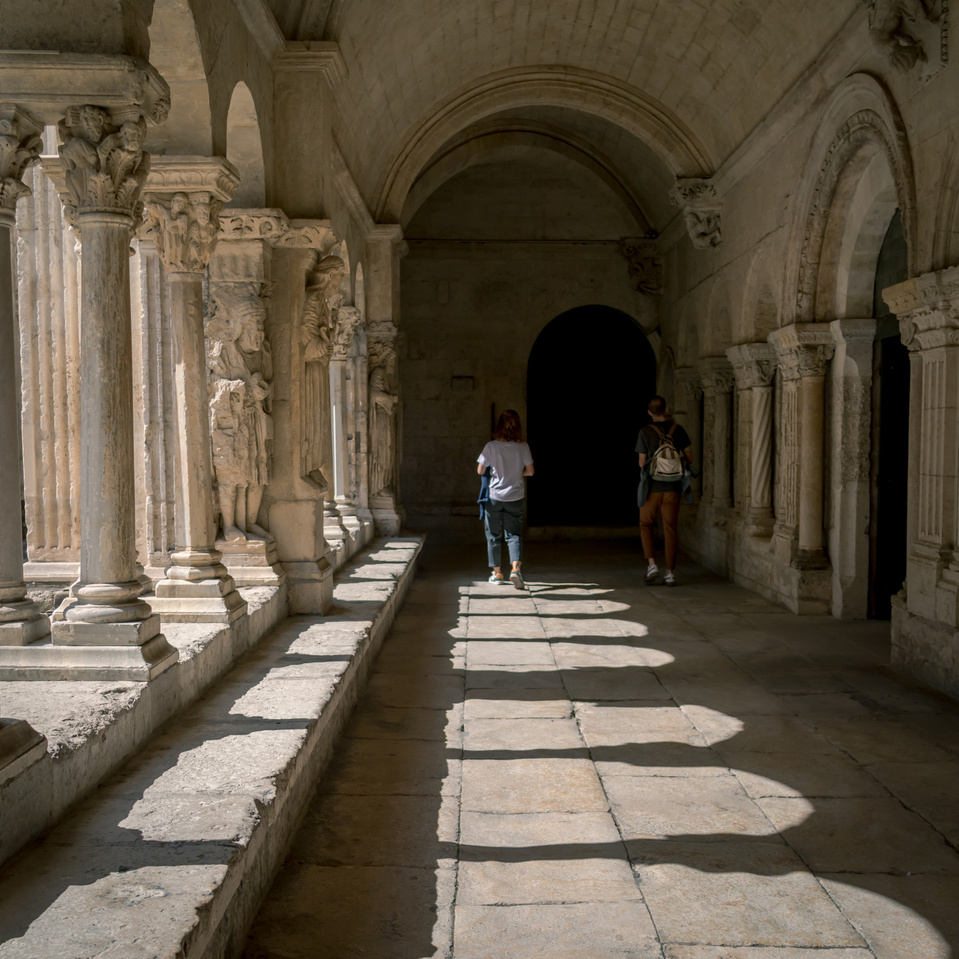 A week later we join Seb and Brice on a trip to Arles for the last weekend of the annual Rencontre d'Arles, one of the oldest and largest photography festivals in Europe. We spend the next two days intensely immersed in photography exhibitions in multiple venues around town. This includes a visit to Frank Geary's tower, in the Luma Arles Cultural Center.
Arles is about as charming a town as one could imagine. The city is over 2500 years old with Roman ruins and the old center included in UNESCO's World Heritage list. Straddling the Rhone River, Arles is small enough to feel cozy but big enough to house all manner of culture, history and leisure pursuits. Bob and I immediately fall in love.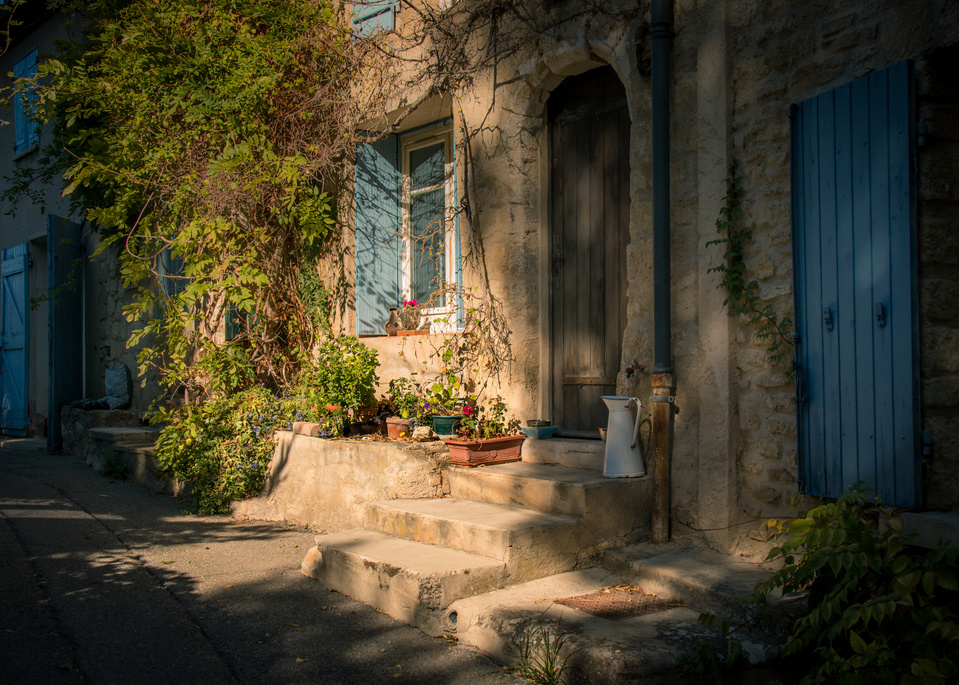 The next weekend, we rent a car for a 4-day adventure in the hill towns of the Luberon, a massif in central Provence. An area famous for its lavender fields, ochre hills, medieval villages, food and wine gave us plenty of opportunity to indulge in all of the above. The Provençal rosé is our go-to lubricant throughout our stay. Criss-crossing the hills, we visit the towns of Lourmarin, Bonnieux, Menerbes, Rousillion, Gordes and Curcuron.
We spend a thoroughly engrossing half day at the Chateau La Coste, which is not actually a chateau but a winery, hotel, restaurant and art oasis owned by the famed Irish hotelier, Paddy McKillen, whose property portfolio extends from Argentina to Vietnam. Room prices range from 800€ to 1400€ per night—so we don't spend a night there. We did, however, spend 4 hours wandering the trails through the vineyards and park to each of the 40 pieces of primarily environmental sculpture. A perfect marriage of old and new, rustic and sophisticated, nature and art—including an excellent meal at the winery's cafe.
Two of our nights are spent at Graham and Lis's (British ex-pats) bed and breakfast, Le Petit Figuier (little fig tree), in the lesser-known village of La Roque-d'Antheron. Lis and Graham are warm and friendly and welcome us with a little happy hour wine and conversation in their enclosed backyard. But Lis is definitely the talker though and barely tolerates Graham's intrusion into the conversation.
Their place is a refurbished 3-story 18th-century (?) village house with a charming backyard festooned with fig trees, flowering vines and all manner of decorative hanging things, potted things and a small swimming pool. Inside, Lis, who is clearly a "vide grenier" (yard sale) aficionado, is also festooned with all manner of trinkets, bibelots, faux art, faux flowers and hearts. Many, many hearts. The over-cluttered, tight quarters are both claustrophobic and charming. Charming in a kind of enthusiasm-gone-beserk way. Likewise, Lis's manner towards her guests is helpfulness-gone-beserk. At every encounter, she breathlessly presses us with "you must visit this", "you must visit that", all her favorite things. Meanwhile, Graham, head hanging, tries fruitlessly to intervene with a feeble, "now Lis…". But Lis wants to reserve us a table at their favorite restaurant in Lourmarin—which they go to every Saturday night—and asks at least four times before finally giving up. In the end, as we are the only guests, we have the third floor to ourselves and their breakfast of fruit and yogurt, croissants, baguettes, butter and jam is absolutely the best. And they are really nice people…just a tad over-eager.
We come away from the Luberon filled to the brim with the sights, sounds and smells of this beautiful earth. The fields, the vineyards and the winding canyon and mountain roads go a long way to make up for the over touristed, British expat-filled towns.
Next up, a day trip to Cassis and a side trip to Spain and a few things in between.