One of the more fantastic features of the Marseille region is the Parc National des Calanques. Calanques are the rocky finger coves to the southeast of Marseille—between Marseille and Cassis—where the mountainous coastline meets the sea. The area is covered in hiking trails of various levels of difficulty most of which include routes downhill that end up at small beaches. It is also possible to visit by boat to get a different perspective.
Our plans are to visit both ways but running out of time, we only make it to the park at Cassis. A late lunch and my stomach ache further limits us to hiking only the first calanque—the Calanque de Port Miou. Having prefaced our day this way, I have to say it is nothing short of spectacular and one of our best days.
Cassis is a small fishing village and much to my chagrin the liqueur, Creme de Cassis, is not from there. To get there we take a bus from Marseille and head east over a windy narrow mountain pass with spectacular views. The long descent into Cassis reminds us of our travels in the Italian region of Cinque Terra, where the villages hang on rocky shoals at the bottom of narrow folds in the coastline. Cassis has a castle (of course) and is known for its white wine and its charming bay lined with seafood restaurants. Walking around, it also strikes us that there are many, many expensive properties on the hills rising up from the village. Second homes or vacation properties for the wealthy Marseillais?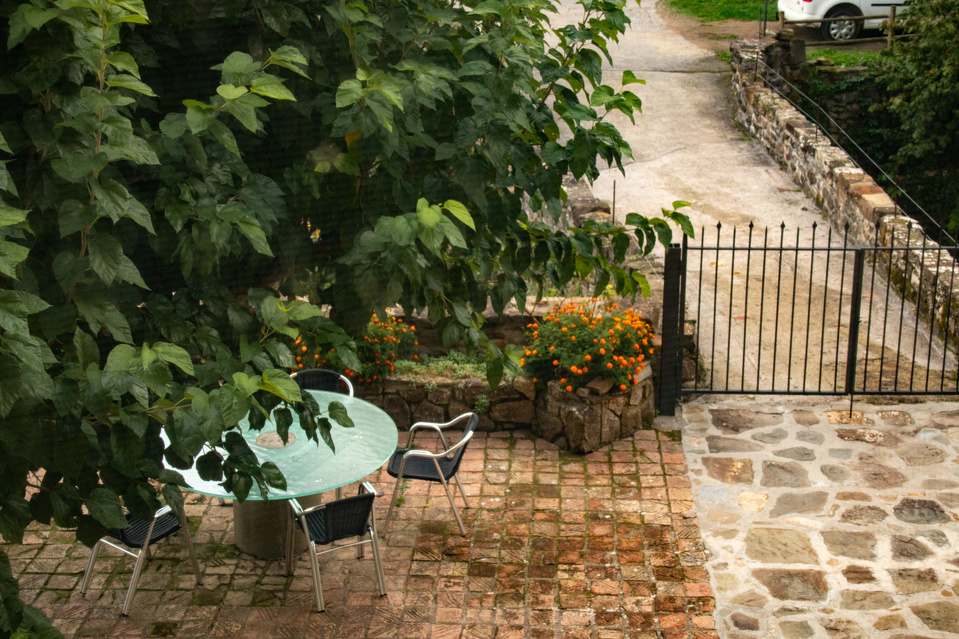 It is our last week in Marseille and on a whim, Bob decides we need to take a quick trip to Besalu, Spain, where ex-Seattleite, James Wallace and his wife Kaire have set up an Airbnb in a 16th-century farmhouse. It's a 4-hour drive from Marseille so we plan on a 2-night stay. Their place is called Mas Costa, the word mas originating in the Latin verb manere, to stay. The word is used in Provence as well but always in reference to a farm or rural abode.
We arrive mid-afternoon after driving through the foothills of the Pyrenees. It is a beautiful sunny day and unbeknownst to us a Spanish holiday. James and Kaire greet us and we spend some time chatting about Seattle, Besalu, travel, the vicissitudes of modern urban life and the desire to start from scratch. We learn about the incredible ordeal these two faced to purchase and renovate this property. Much of the renovation is done by James and Kaire themselves and we are very impressed by the stylish up-to-date results.
It seems the Spanish make foreigners jump through even more hoops than the French. James's description of studying for months just to get a driver's license is headache-inducing. He paints a picture of a written and driving test that is so detailed and complex that we ask if it is the same for Spaniards—which it is. How does the average Spanish teenager ever pass? Perhaps, like many other countries, bribes are not uncommon.
Later we head into the village to find a bite to eat and are surprised by the festive, market atmosphere in the main square. The old medieval village is tiny—only a couple thousand inhabitants—and was designated a historical national property in 1966. Its main feature is a 12th-century romanesque bridge over the River Fluvia and an area of narrow streets near the bridge that belong to an old Jewish quarter which includes a "miqvé or a purification bath. This indicates the presence of an important Jewish community in that era—which explains the Israeli tour group in town the next morning.
As it is a holiday, the parking lot on the edge of town is filled to the brim with cars, campers and tour buses. With Barcelona less than 150 km away and Perpignan, France even closer, Besalu seems a popular outing. Neither Bob nor I are proficient in Spanish which doesn't really matter since everyone here speaks Catalan. It is late and the festivities and restaurants are winding down but we manage to have a simple, but delicious, chicken dinner in a restaurant run by a North African family and head back to our medieval stone room in the hills outside of town. Our sleep is as deep as the silence.
Mas Costa is nestled in the fold of hills deeply forested by holly oaks which are evergreen. After a trip into town for coffee and breakfast treats, we spend the rest of the day hiking the hills in search of the mountaintop sanctuary of Sant Ferriol that Kaire has told us about. While there is an easy road up to the sanctuary, we opt to hike a longer trail route. The hike starts on the road that winds uphill from their property and eventually turns into broken pavement, then gravel, then broken pavement, then gravel again. You get the picture. It is uphill the whole way and the forest is made denser by the thick vines that hang from the trees. Bob is in his element documenting every mushroom along the way. There are cross trails at various points and we are not sure of our route until we get high enough to see the terrain around us. After about 5 hours of wandering and almost giving up, we make it to our destination—a stone church/sanctuary set in a park with views over the surrounding territory. The sanctuary is closed so after a brief look around, we take the easy road back downhill. Halfway down, Bob spots what he thinks is a shortcut path that avoids the switchbacks on the road and heads off through the brush. I know better and head back to wait for him at Mas Costa. An hour later Bob returns, scratched up and muddy but very happy. You can take the boy out of the woods, but you can't take the woods out of the boy.
The next morning we head back to Marseille with a notable lunch stop in Perpignan. Notable because Bob's amazing parking karma brings us, without a hitch, to a parking garage in front of a great little restaurant and back out of town again in time to return our rental car in Marseille. The lunch was very good as well.
Next chapter Athens.